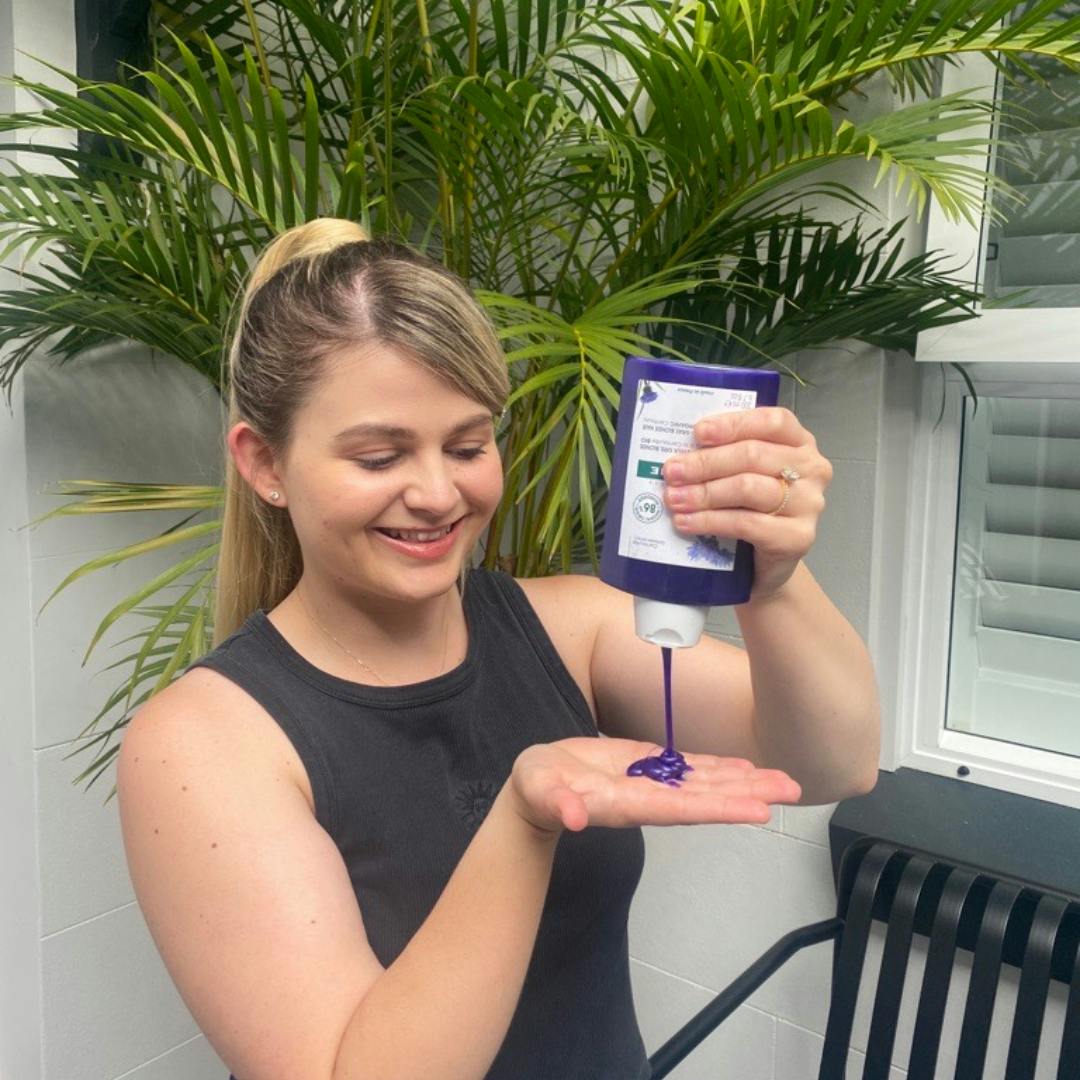 Most Asked Questions That All Blondes Want Answered
Anyone with blonde hair knows that keeping it looking and feeling amazing can feel like a full-time job. Whether you've been blessed with natural blonde locks or you've just spent a pretty penny having your hair bleached and toned to get that dream shade of platinum you've been chasing, you're probably wondering what the best way to maintain your beautiful hair is and why it's important to use specialised products. Take a look here at our most asked questions that all blondes want answered to get the answers you've been looking for.  
 

What happens when blonde hair isn't taken care of? 

If you're new to having blonde hair, you have probably learnt that it can seem almost impossible to take care of properly. Blonde hair, especially bleached blonde hair, can be prone to discolouration, which will often happen when it isn't maintained properly. Using hair products that aren't designed for blonde hair can cause discolouration. This can lead to hair looking yellow or brassy, two shades you don't want your hair to be exhibiting. You can avoid unwanted yellow tones with our favourite Klorane Anti-Yellowing Centaury Shampoo as it'll remove unwanted brassiness, and illuminate your blonde! 
 
Another thing to keep in mind is the fact that attaining that desired shade of blonde often requires the use of a lot of harsh chemicals. Understandably, this can cause your hair to become dry and brittle if you aren't caring for it properly. Lightening hair is a difficult and time-consuming task to do properly and it is never recommended to try and DIY it at home. When you change the colour of your hair, the molecular structure of your hair is changed and often weakened which can lead to dryness and brittle hair. Bleached hair is often weaker and more prone to breakage. Using the right products that are designed for lightened hair can help to offset some of the damage that happens during the lightening process.  

How do you maintain your blonde? 

Maintaining your blonde hair will not only help keep it healthier, but it will also help prolong the time between hair appointments. We recommend investing in the right products, not over washing your hair, avoiding hot hair tools if possible, utilising a good quality heat protector and getting regular trims. Some of our favourite blonde hair products include the KÈRASTASE Blond Absolu Night Serum and the NAK HAIR Platinum Blonde Anti-Yellow Treatment. They will help keep your hair moisturised and nourished whilst avoiding those brassy yellow tones.

Should you be using a purple conditioner if you are using a purple shampoo? 

You may be wondering if you should be using a purple shampoo and a purple conditioner at the same time, after all, double the benefits, right? Well, perhaps not in this case. Using both a purple shampoo and a purple conditioner at the same time can potentially cause your hair to become too dry, which is obviously something you want to try and avoid. It can also give your hair a pale ashy colour which you may not be chasing. We recommend that you instead invest in an ultra-nourishing conditioner that is designed for dyed hair, to give your golden tresses that extra burst of moisture they may be craving.  
 
On the other hand, purple conditioner is a great way to tone out the brassy tones in your hair with a milder but more conditioning hair care product. The colour correction won't be as intense as with a purple shampoo, but your hair will feel healthier and softer and there is less chance of over-drying your hair. Pair your purple conditioner with shampoo for coloured hair.  

Does purple shampoo dry your hair out? 

A high-quality purple shampoo such as the Fudge Clean Blonde Damage Rewind Shampoo should be the holy grail of your hair care regimen. But it can be drying on your hair if used incorrectly. Avoid using too much of your purple shampoo as it can cause build-up on your hair which can make it dry, dull and brittle. Always invest in great quality purple shampoos, and another one we love is the L'Oréal Professionnel Chroma Creme Shampoo. Be sure to read the directions before use, as a general rule of thumb, we recommend using your purple shampoo once a week at most. This will help you get the best results without drying your hair out too much.  


 
If you're on the hunt for the best collection of blonde haircare products, you can find it here to keep your golden tresses glowing. Our collection is extensive and features some of the best products on the market to keep your hair looking and feeling amazing. Whether you're after a night serum, violet shampoo or an anti-brass treatment, you'll find everything you need at Oz Hair and Beauty.