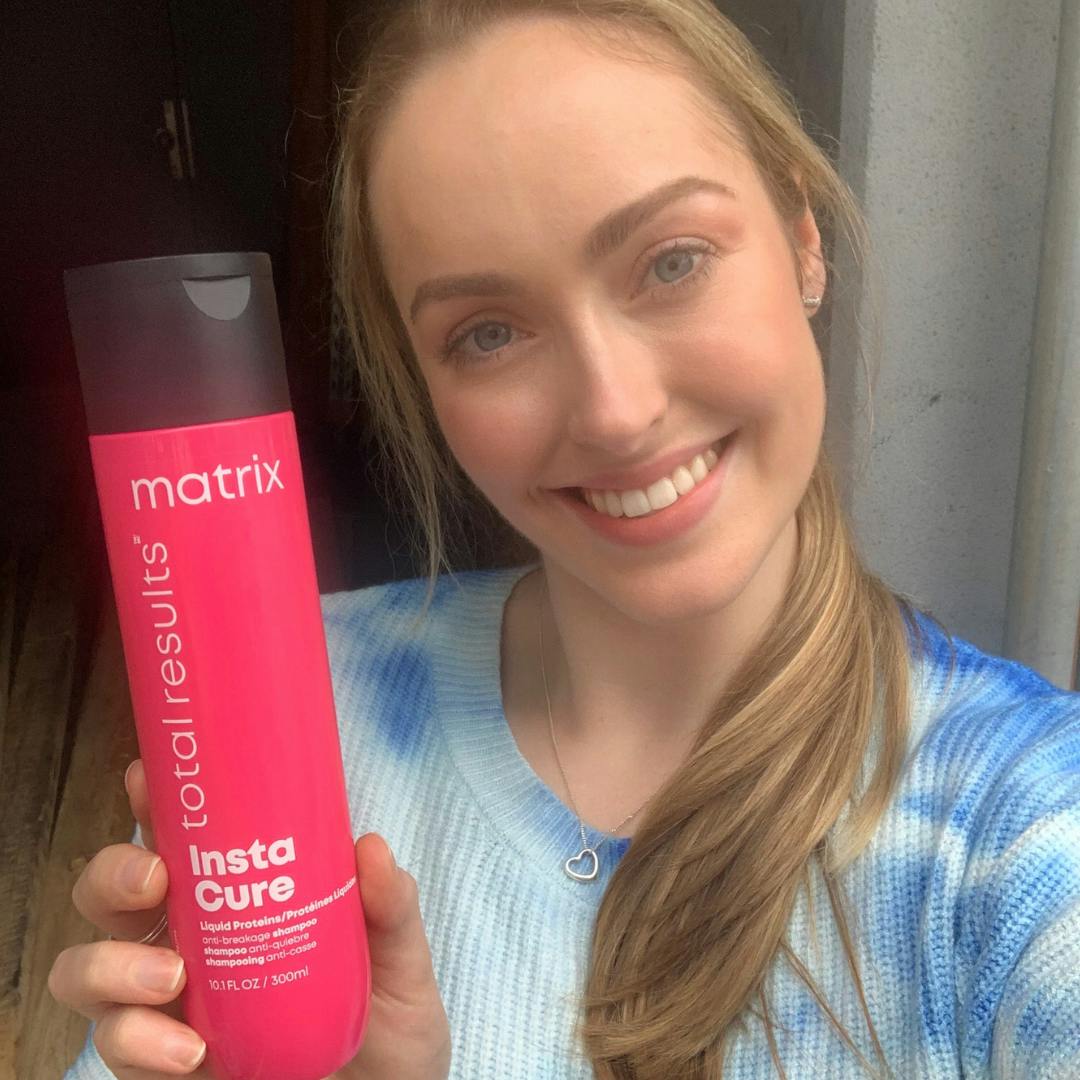 Why These Are The Best Tips For Damaged Hair
As much as we don't want to admit it, a lot of damage that is done to our hair is usually self- inflicted. Eeek. However many of us also may naturally suffer from dry, brittle or fragile hair. Whether you're a serial hair colourer, an extension lover, whether you're using the wrong products, or it's just the way your hair is, we share our tips on how you can maintain a healthier mane and improve your damaged hair, so you can feel red-carpet-ready from the moment you wake up. 
Wash your hair less  
As refreshing and incredible as it feels washing your hair daily, limiting the amount of times you wash your locks, will limit any further damage done too. Washing your hair everyday can cause dryness, and breakage, however it's not to say that is necessarily wrong because one size doesn't fit all, and we all have different hair and scalp types. If you can reduce the amount of hair washing, the better, however when you do reach for the shower head opt for and shampoo & conditioner duo a little more strengthening and nourishing, which will help bring your locks back to life. Infused with liquid proteins to strengthen dry and brittle hair, the Matrix Total Results Instacure Anti-Breakage Shampoo & Conditioner helps to repair your locks, whilst cleansing and removing build up (basically banishing any nasties from further damage), the best bit yet? It controls frizz and smooths the cuticles so your hair feels the luxury it deserves! 
Give heatless styling a go! 
The most obvious one - Air dry your mane. Avoid heat all together and let the air do all the work for you! 
Asides from air drying, let's talk about the memories of my Aunt wrapping my hair in rags to create the most bounciest of curls when I was younger. It truly was one of the best ways to create a voluminous bounce but without the damage. Dating back to the 1800's, using strips of cloth wrapped around small sections of the hair, gave women, and men the most enviable glossy barrels, that these days we'd pay a lot of money for! Fast-forward to 2022, brands like Kitsch have graced us with their Satin Heatless Curling Set, a fool-proof and hair-loving tool that'll assist in creating those gorgeous barrel curls, and waves WITHOUT THE HEAT DAMAGE. The satin construction also keeps your hair frizz-free and prevents breakage whilst using it. It's a yes from us! So not only can you continue to look cute when styling your hair, no harm will be done in the making. Win. Win.  
Another style that we LOVE, especially here at the Oz Hair and Beauty HQ, is the trustee Bella Hadid wet-look slick bun. After you've washed your locks, you can pop in your fave leave-in treatment, or even a hair mask, to then style into the insta-famous Bella bun. I personally love to douse my hair in the ELEVEN Miracle Treatment as it not only adds shine, hydration and softness, it also protects my hair and scalp from UV rays which yes, can cause more damage to the hair! A fab all-rounder! 
Brush your hair properly  
Another obvious one here guys. Brushing your locks properly can seriously reduce the amount of breakage caused. It gives us all an anxiety-ridden fear at the thought of brushing and spotting half of our hair on the floor. Brushing from ends to roots will reduce breakage, aid in detangling, and when using a brush like a Tangleteezer, your locks will glide through smoothly without any harm done! Samantha Cusick AKA Hair Goddess, shows us exactly how we should be brushing, so take notes, save the post, and thank us later.  
Use a deep conditioning treatment  
Why should we used a deep conditioner regularly? Short answer, because it's a great (and very easy) tool to maintain the health of your hair! 
There are ingredients in deep conditioners such as Argan Oil, Shea Butter, Almond Oil, Coconut Oil and Avocado Oil, which are like a hug for your hair. They are designed to hydrate and soften damaged hair, improve elasticity and the bit that we notice the most, they'll make your hair feel softer, more nourished and will contribute to healing our damaged locks. After applying the Moroccanoil Restorative Hair Mask for as little as 5 minutes, once a week, you will start to notice the difference in the strength of your hair. Boasting of high-performing ingredients such as Argan Oil and Shea Butter, this deeply restorative mask will restore the hairs elasticity and rebuild It's strength from the inside out.  
Ditch the bathroom towel  
Ditching your bathroom towel and switching it to a micro fibre hair towel like the Coco & Eve one, will do wonders for your hair, and trust me you'll see the difference. The soft and super water-absorbing towel not only speeds up drying time (more time for you), it combats frizz (dreamy), and prevents friction which sadly leads to more breakage (so adiós to broken hair). And a top tip from us: Apply your fave hair mask, wrap your towel around your hair and leave for several hours or even overnight, for a boost of hydration and nourished locks!  
Love what you see? Give the Best Hair Mask For Damaged Hair a read to find out which is best for you! (See link below) And head to Oz Hair and Beauty to shop the best products for dry and damaged hair.