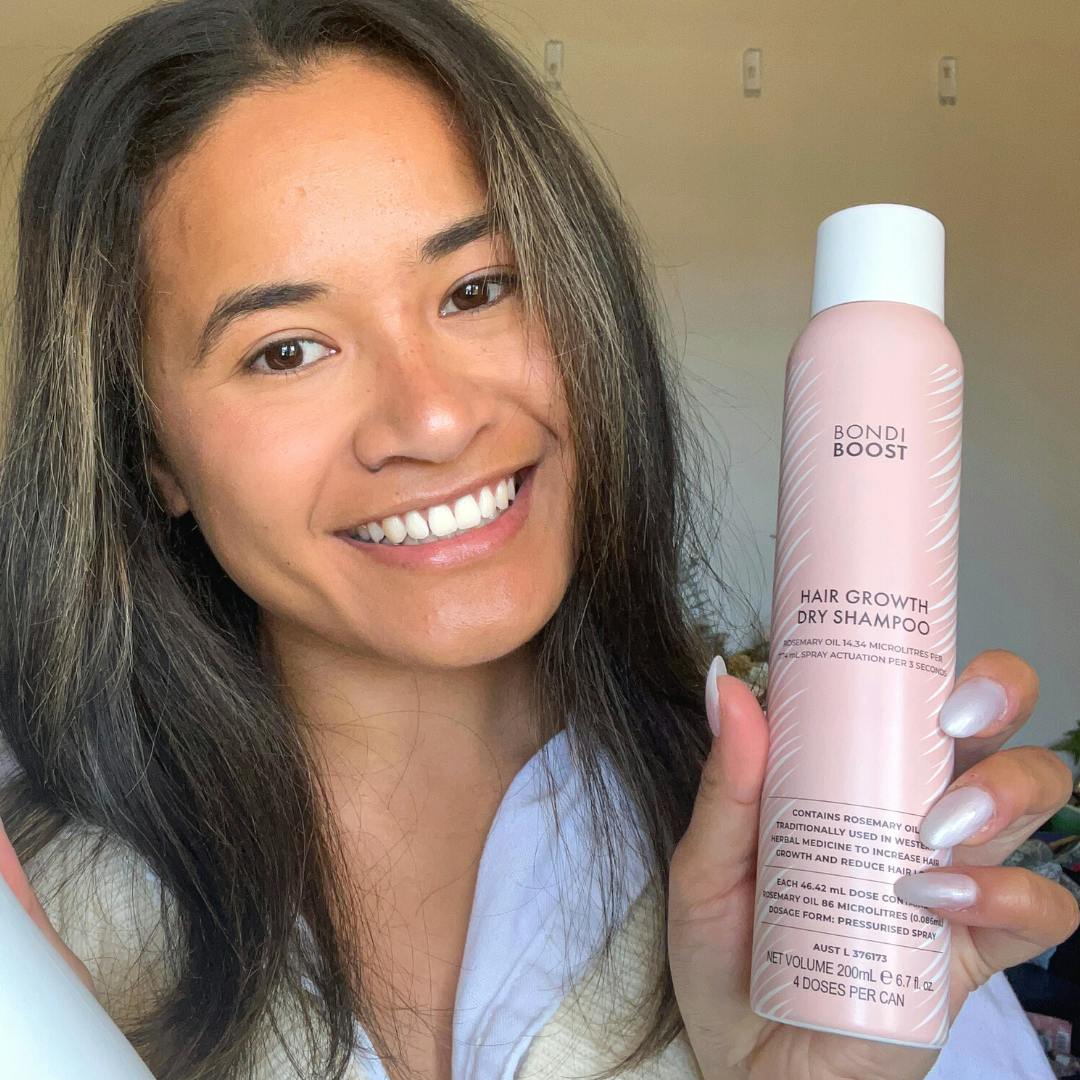 What is Dry Shampoo? | Oz Hair and Beauty
Dry shampoo is the on-the-go hero everyone needs on their side. This incredible addition to your haircare arsenal can cut down on your time getting ready and give your hair a boost. But what is dry shampoo and what is the best dry shampoo for you? 
How does dry shampoo work?
Firstly, we will explore how dry shampoo works so that you can understand why you absolutely need this to be a part of your regular routine. Dry shampoo is usually a spray which can be used in place of traditional shampoo or cleansing products to instantly clean your hair and make it appear fresher between washes. You can use dry shampoo to soak up any dirt, oil and sweat that has built up on your scalp, giving you cleaner-looking roots in an instant - no need to hop in the shower!  
How to use dry shampoo?
You can use dry shampoo entirely without water - but what is the best way to apply it? 
Hold carefully 
Make sure to hold the can at least six inches from your head and spray a small amount of product onto the roots of your hair. Hit all the areas where grease buildup is most common, including the back of your head and nape of your neck.  
Remember to work it in 
Because dry shampoo will leave powder on your hair, take a moment to massage it in carefully with your fingertips. Work it into your scalp so that it becomes invisible. 
The benefits of dry shampoo
 Dry shampoo is a real hero when you want to skip wash day - but what are the best benefits of this essential alternative?  
Speedy styling
If you want to enjoy more time between hair washes, dry shampoo is perfect for you. It makes getting ready much quicker and gives you more time to relax, or focus on other elements of your look. 
Boost your volume
As well as soaking up oil, dry shampoo is commonly used for hair styling. If you want to liven up limp locks, give your hair a burst of cold air from your hairdryer. This can give you a fantastic look as well as cleaner, fresher locks.
Suitable for a range of hair types
No matter what type of hair or scalp you have, there is a dry shampoo to suit you. This means that you can find a dry shampoo that won't damage your locks or aggravate your skin.  
Keeps you fresh all day
Rather than pushing your hair under a hat, dry shampoo gives you bags of style while soaking up excess sebum. This can be vital for those with more oily hair types, even on hair-wash days.  
Given that different dry shampoos are effective for different hair types, which might be the best for you?  
For dry and itchy scalps
Are you reluctant to use dry shampoo due to an itchy and dry scalp? Then pick up  Philip Kingsley Dry Flaky/Itchy Scalp Dry Shampoo to ease that unwelcome flakiness. 
For blonde hair
Worrying that dry shampoo will dull your colour? Paul Mitchell Invisible Wear can give your blonde hair a little extra glow without a white residue.  
For volume and scent
Kérastase Fresh Affair is another ideal choice for those seeking a gentle dry shampoo. This will give you more volume, as well as a subtle fragrance.  
For sensitive scalps
Sensitive scalps shouldn't miss out on dry shampoo, and the gentle formula in the Klorane Dry Shampoo with Oat Milk can add volume without harming your skin. 
For improved hair growth 
For those who are seeking to boost their hair growth, then BondiBoost Hair Growth Dry Shampoo is for you. It can encourage better blood circulation and help your hair to grow a little longer. 
No matter what your hair or scalp type, head to ozhairandbeauty.com to find the perfect dry shampoo for you!