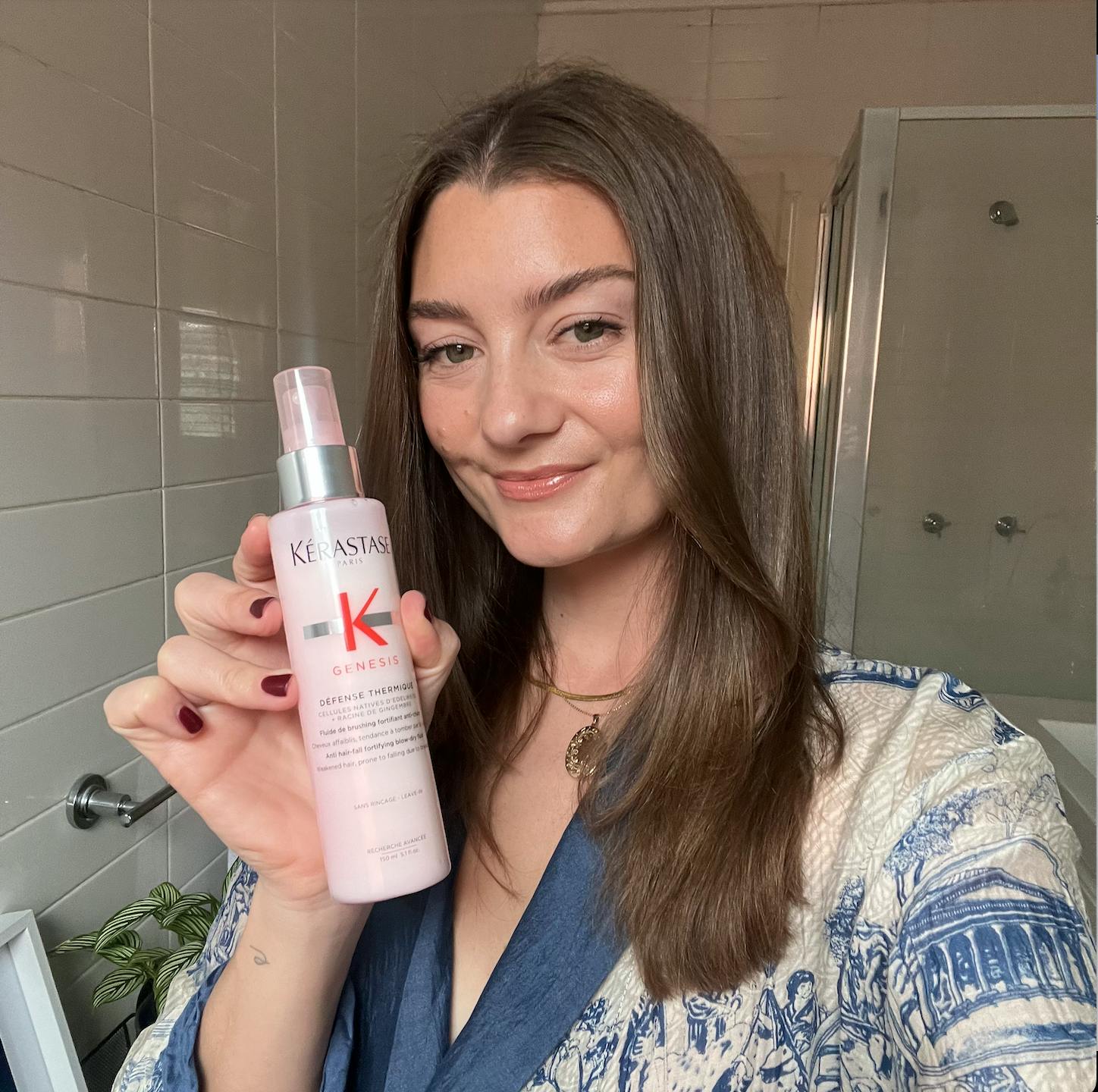 The Products You Need For Thinning Hair
A little bit of daily hair loss is entirely normal - we're all used to seeing a few hairs wash down the plughole after shampooing - and you might already know that we naturally shed up to 100 hairs daily.

But what if you notice more significant hair loss?

If you feel like your hair may be thinning or you've noticed some bald patches - don't panic. There are many different reasons why this can happen. Understanding the causes can help you get back on top of things with the right treatments.

What causes thinning hair?

There are LOTS of different reasons for thinning hair. Some are well within our control, others less so. But knowing the causes can help you begin to pinpoint what might be behind your own experience.

Some common causes include:

- Hair Treatment Habits: This includes how you treat your hair, such as the products you use, over-styling or how often you dye or perm your hair. It also includes the hairstyles you frequently use. For example, tight hairstyles pull on the hair more, leading to more hair loss.

- Dietary Habits: Certain vitamins, including iron and folic acid, are needed for healthy hair growth. A poor diet can contribute to thinning hair.

- Lifestyle Habits: High stress is linked to the hormone cortisol, which can adversely affect the body, including hair loss or thinning.

- Genetics: Some hair thinning and hair loss are linked to hereditary causes or other medical conditions. Natural aging can also lead to some hair loss and thinning as we get older.

Other common causes that might contribute to short-term hair thinning or loss include pregnancy and breastfeeding, some birth control pills, hormonal imbalances or losing weight too quickly.

How to combat thinning hair

In many instances, you can help reduce or combat thinning hair with a few lifestyle tweaks and by using supportive products that can help promote your hair's regrowth and buoyancy.

Below are a few tips on how to help get back on track if you've recently noticed some hair thinning:

1. Try a scalp massage

A scalp massage is a quick and effective way to help promote hair growth. Applying gentle pressure across your scalp with your fingers can stimulate the hair follicles and encourage growth.

You can do this in the shower while shampooing or in conjunction with a product like the Kérastase Genesis Anti-Breakage Fortifying Hair Serum.

This divine anti-hair-fall fortifying serum has been formulated explicitly for weakened hair prone to falling.

How to use:

1. Use daily in the morning or before bed for a minimum of six weeks.
2. Apply four drops to your hand, and then work through on dry or towel-dried scalp, section by section.
3. Use a scalp massage to gently work the serum through your scalp.
4. Leave in and style as desired.
5. Use a targeted shampoo.

If you've been guilty of using harsh products or have perhaps overdone it with styling and dying, you need to inject your daily hair care regime with products to combat this and actively boost your hair growth.

The Klorane Shampoo with Quinine and B Vitamins is the perfect product to start with.

Formulated with natural extract from Quinine, responsibly cultivated in Ecuador, this fast-selling shampoo strengthens, reinvigorates and restores thickness to thinning hair. Gentle enough for everyday use but powerful enough to get results, the fortified B vitamins help to power vigour and resistance to hair thinning while promoting hydration and soft, supple hair.

Free from silicones, SLS, parabens, MIT and triclosan, this is the number one shampoo to help get your hair back from limp to full of life.

How to use:

1. Apply to wet hair during showering and lather into a rich foam, working through the scalp.
2. Rinse thoroughly and follow with further treatment products.
3. Avoid contact with eyes; rinse thoroughly if this occurs.
4. Focus on nutrients.

Healthy hair needs overall good health, and one way to help promote this is with a focus on your diet, nutrition and vitamins. Iron, folic acid and zinc are some of the top vitamins to consider when focusing on hair health.

You can boost nutritional intake in two ways; through supplements and targeted on-scalp products.

The Virtue 6-in-1 Styler should be a bathroom staple when it comes to giving your hair a vital injection of all the good stuff. A universal styling cream with a whole heap of added benefits - including hydration and strengthening - for all hair types.

Powered by the revolutionary Alpha Keratin 60ku® protein, the 6-in-1 Styler is the ultimate multitasking product to help achieve your hair goals. It fights frizz, builds bounce, helps to set styles AND adds a big hit of shine.

How to use:

1. Apply a quarter-size amount to the palms of the hands.
2. Work through damp or clean, dry hair from mid-lengths through to ends.
3. Style as required.
4. Go for in-depth treatments.

Combatting thinning hair won't happen overnight, but with consistency and the right products.

In-depth treatments are a great way to combat your daily hair care regimen and help give your hair and scalp a boost of support when needed. Hair masks and tonics offer a great weekly or monthly treat to help improve overall hair health.

Kérastase Genesis Reconstructing Mask is our top recommendation for a weekly treatment mask for thinning hair.

This sumptuous mask not only smells great but is also the perfect fortifying treatment for weakened hair that's prone to falling out. Promoting anti-hair-fall, the Kérastase Genesis Reconstructing Mask intensely nourishes and reinforces hair strands, helping to prevent breakage and falling that can lead to thinness.

How to use:

1. Apply to freshly washed and towel-dried hair.
2. Massage into the lengths and ends of hair, and leave for five minutes to absorb.
3. Rinse out with warm water.
4. Style as usual.
5. Use weekly to help promote hair strength and health.

Find your way to hair fullness today

If you haven't already, take a look at the recommended products and see how you can start combatting thinning hair and promoting thick, full locks.

All products mentioned, plus a range of other great haircare staples, are available to purchase at Oz Hair and Beauty today.