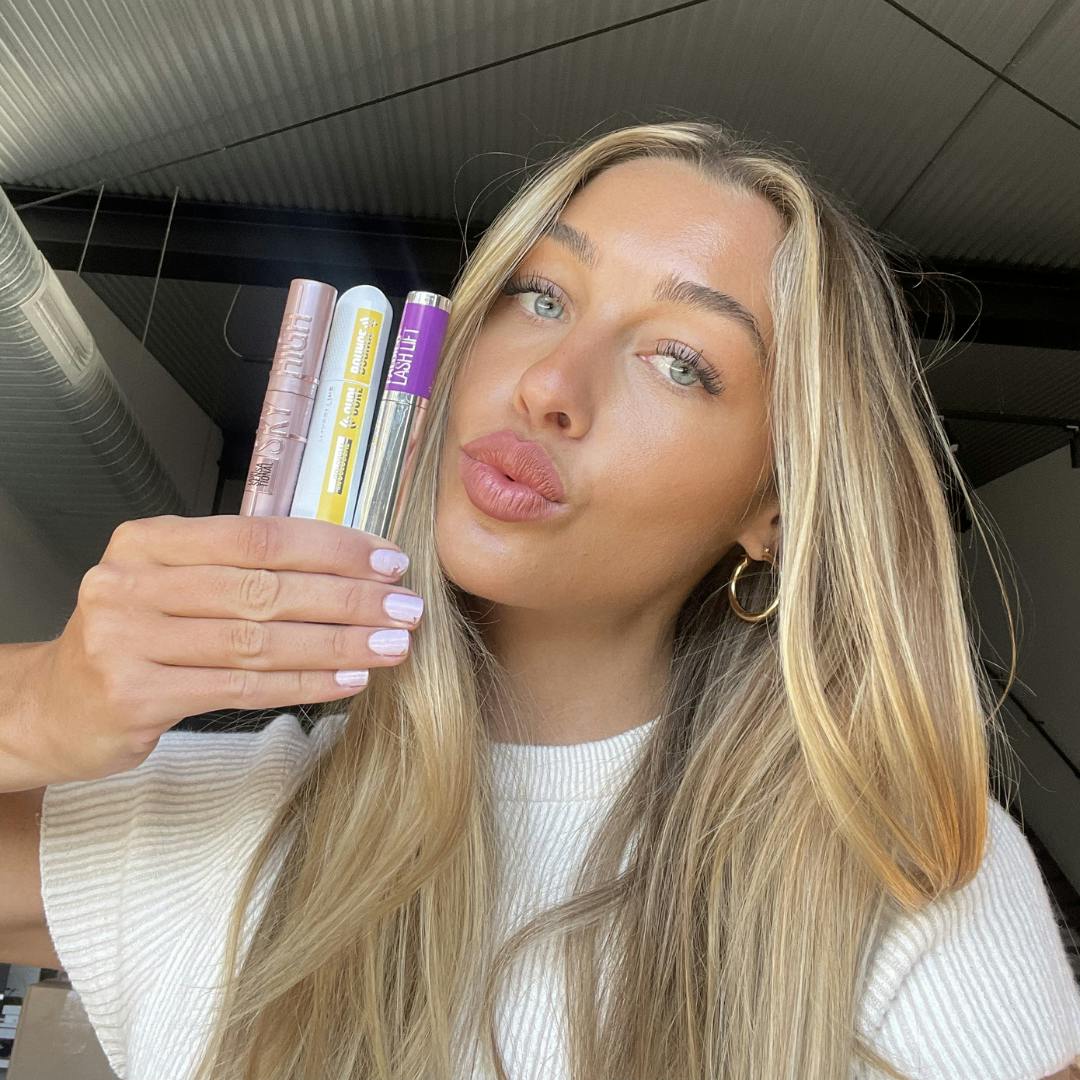 The Mascara That is Sammy Robinson Approved!
Choosing the perfect mascara can be confusing, but whether you're looking for super long lashes or a volumising false lash effect…Maybelline New York has the perfect mascara for you! 
The Curler 
For those lazy days, try Maybelline's Colossal Curl Bounce Volume Mascara for a curled lash effect…no lash curler needed! The Curl 'N' Bounce brush and volume lock formula curl lashes. 
Benefits: 
Skip the lash curler and use this mascara to give lashes big, bouncy volume without clumps. 
The volumising formula delivers bouncy and curled lashes.  
The Curl 'N' Bounce brush curls up every lash and the Memory Curl Formula keeps curls up for 24 hour wear. 
The Lengthener 
If you're looking for long, lash extension-effect lashes, look no further than Maybelline's viral Sky High Mascara. Infused with bamboo and fibres, and a flex tower brush, your lashes will reach new heights. 
"Maybelline has the best mascaras and I love switching up depending on the look I want to create! My absolute fave is Sky High mascara for super long, lengthened lashes." @sammmyrobinson 
 
Benefits: 
Limitless Length and Volume with intense black pigments. 
Exclusive Flex Tower mascara brush bends to allow maximum volume and extension of every lash from root to tip. 
Formula infused with bamboo extract and fibres to give you longer, fuller lashes that never get weighed down. 
Now, you can add the look of length and volume without clumping. 
All day wear. 

The Lifter 
For a salon lash lift look in a tube, try Maybelline Falsies Lash Lift Mascara. With a double-curved lifting brush that lifts lashes from root to tip. 
 
Benefits: 
A volumising mascara that leaves your lashes long and lifted 
Available in a waterproof formula for added holding power 
Double-curved lifting brush grabs lashes at the root to lift 
Fibre-infused formula thickens and lengthens lashes 
Ophthalmologist tested, suitable for sensitive eyes and contact lenses 
For your best lashes yet, our pro tip is to layer different mascaras to maximise their effects and create a custom look. For bold, ultra thick & long lashes- start with Sky High Mascara to separate lashes and build length. Then top with Falsies Lash Lift Mascara or Curl Bounce to add bold volume and achieve a true false-lash effect. 
How To Apply Mascara Like A Pro 
Mascara is key to stand-out eyes, but perfecting your application can take a bit of work.  
Step 1.
Don't underestimate the power of a good eyelash curler! Curling your lashes, focusing on the ends and corners, gives your mascara a head start.  
 
Step 2.
Much like your foundation, eyelashes need primer. Primer can help hold mascara in place as well as elongate the tip for longer-looking lashes. Choose the right formula and it will also be chock-full of nourishing ingredients like Lash Sensational Serum. Apply before mascara for major lash impact. 
 
Step 3.
Apply the mascara from root to tip. Begin at the root of your upper lashes, wiggling the wand back and forth as you work your way up to capture each individual lash. Blinking lashes on the mascara wand can also help volumise lashes quickly. Layer up to three coats of mascara – anymore and they may start to flake! Apply mascara to bottom lashes using just the tip of the wand to avoid clumping. 
Pro Mascara Tips
Fan it out: Use the wand vertically when you reach the outer and inner corners of your eyes, brushing outwards to get fan-like definition. This ensures each eyelash is well covered. 
 
Avoid clumping: It's all in the twist. Instead of grab-and-go, twist the wand out of its tube and wipe off any excess product. It's a must when applying mascara to help avoid clumping. 
 
Try both sides: For high-impact thickness and serious volume, apply mascara to both sides of the lashes. Apply to the inside of your lashes as per usual, then brush product on the outer side from root to tip. Take it slow – you don't want to mess up that perfect curl! 
 
Let it dry: Smudges happen, but they're easy to fix. Let it dry before picking off each smudge with a damp cotton bud. This avoids shadowy smears across your eyelid. 
Find your perfect mascara today at ozhairandbeauty.com.