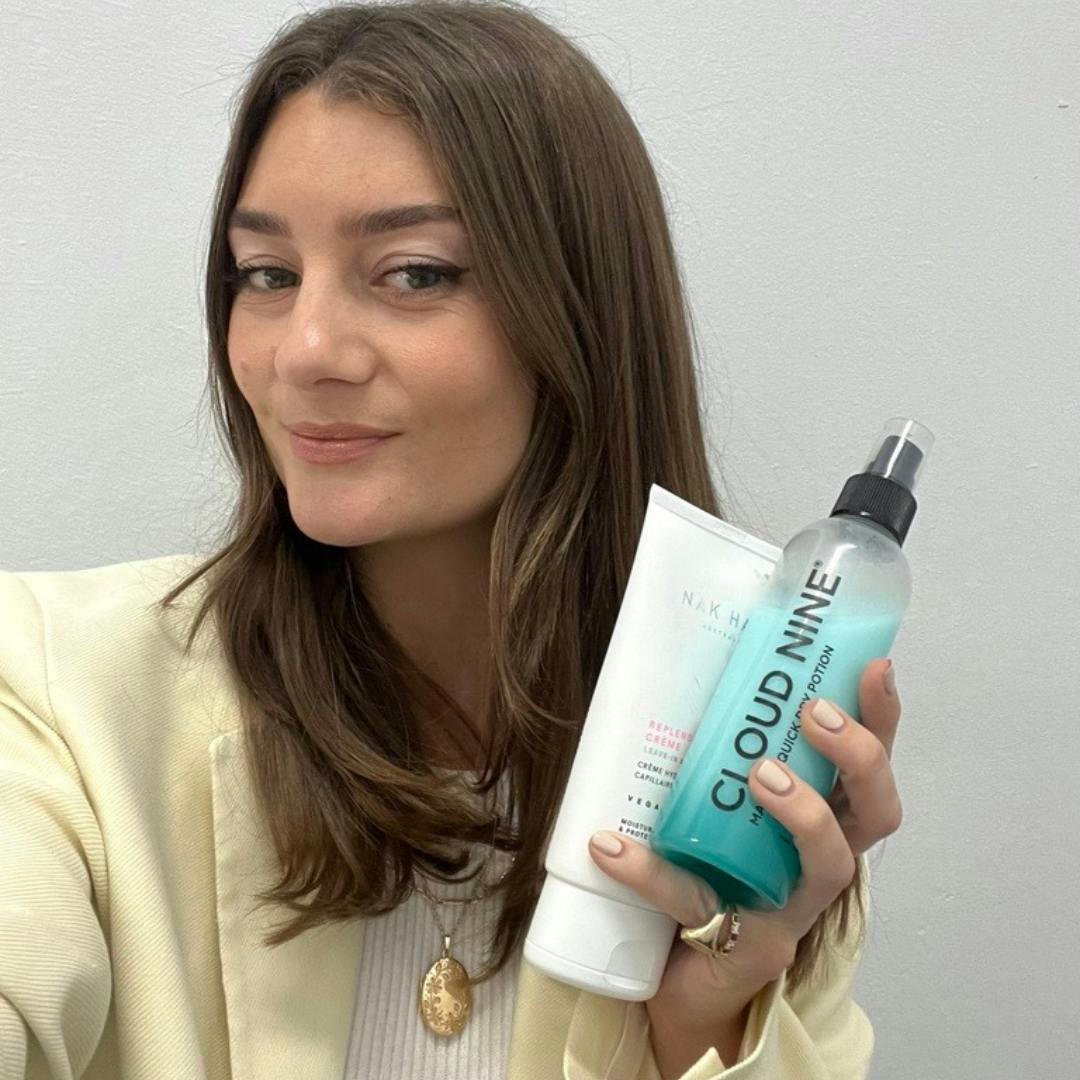 Split Up With Split Ends
Split ends set in slowly, then suddenly appear all at once. To begin with, you barely notice them - the odd flyaway and frayed end seem like nothing to be concerned with. A quick snip and some hair oil and the problem is gone, right? 
 
The problem is that your neglected trips to the hairdresser will catch up with you quickly and you'll find yourself tackling dryness, scraggly ends and frizz galore. Split ends are a chronic problem for some, while others have little trouble maintaining healthy hair. Genetics plays a part in the likelihood of breakage but there are things you can do to avoid split ends. 
 
Read on to learn everything you need to know to level up your split ends game! 

How do split ends occur?

In a nutshell, split ends are when a single hair splits into two thinner hairs. It's most visible at the ends of the hairs, but it can happen anywhere on a strand. 
 
There are various things that can cause split ends: 

Bad haircare habits

Everyday stressors like hot showers, vigorous brushing of tangled hair, winding hair up in a towel or sleeping with the hair tied up can all lead to split ends, particularly if you do them regularly. 

Chemical treatments

Straightening with chemical treatments and perms, as well as bleaching and dying your hair, weaken the hair's integrity. This means you are more likely to get split ends. 

Heat styling

If you use hair dryers, straighteners and curling irons regularly, you strip the hair of its moisture. This makes it more delicate and increases the risk of splitting. 

Environmental problems

Things like a lack of humidity or too much sun exposure are known to lead to dryness in your hair. Again, this makes you more prone to split ends. 

Bad nutrition

You are what you eat, right? A lack of nutrients from your diet can lead to vitamin deficiencies and hormonal issues, and this often harms the health of our hair. 

The wrong hair products 

Hair products that contain alcohol and drying agents strip the hair and increase the likelihood of breakage. It's also important to have regular trims to remove split ends before they get worse. 

What should you avoid to prevent split ends?

You need to nourish your hair inside and outside. This starts with eating the right food, with plenty of fruits, vegetables and healthy fats. Supplements can be helpful if you feel you may not be getting all the nutrients you need. 
 
Ingredients like biotin and folic acid are known to improve hair health. You should also ensure you stay well hydrated by drinking plenty of water throughout the day. It can also be helpful to get regular trims - every 6-8 weeks is ideal. 
 
Another great tip is to wash your hair less frequently and use the right products. This means you should carefully choose your shampoos, conditioners and styling products - those that are good for dry, damaged hair can be particularly helpful. Avoid exposing your hair to too much heat and remember that bleaching your hair too often will invariably damage it. 

Which ingredients should you use to repair split ends?

There are many products that can be helpful for split ends, and the key is their ingredients. The following ingredients are known to be helpful for repairing split ends: 
 
Coconut oil: A fantastic moisturiser, this oil prevents breakage and fraying and avoids protein loss in hair.
 
Castor seed oil: This is known to hydrate, repair damage and facilitate hair growth.
 
Keratin: The protein that hair is primarily made up of, keratin is extremely important for strong and healthy hair.
 
Almond oil: This acts as a lubricant to reduce friction when styling your hair to prevent accidental breakage.
 
Amla: With a high moisture content and lots of Vitamin E, this nourishes and conditions your hair.
 
Moringa: This will revitalise your locks with its behenic acid content. It is a natural conditioner and adds strength and bounce to your hair.

Our top products for split ends

With its keratin and liquid silk content, the Goldwell Kerasilk Control Shampoo gently cleanses and smoothes your locks with every wash. It is designed for hair that is frizzy and difficult to manage, so its benefits naturally translate into helping reduce the likelihood of split ends. 
 
 
Carefully formulated with natural mango extracts, the Klorane Shampoo with Mango will nourish and hydrate dry hair that is prone to splitting. The mango butter content is cultivated in India where it is traditionally used for its superb nourishing properties. It will smooth your hair cuticles and fill gaps in your hydrolipidic film to ensure better hydration in your hair. 
 
 
The NAK HAIR Replends Creme Leave in Moisturiser is specially formulated to soften and protect dry hair. It naturally detangles hair strands to avoid the damage that comes with vigorous brushing and styling. You will also find that it adds shine and hydration to your locks, enriched with coconut oil, various proteins and nourishing aloe vera. 
 
Now everyone needs the Kérastase Nutritive Blow-Dry Primer! This super nourishing, thermal-protecting, blow-dry treatment is a must before styling your locks with hot tools or appliances. By polishing the hair surface, and deeply nourishing the hair fibres, It makes it easier to style and leaves you with hair as shiny as a glazed donut!

And lastly, the CLOUD NINE Magical Potion, a wonderful little formula and a bottle full of heat protection alongside frizz and flyaway prevention, conditioning your hair and bringing out its natural shine. It will reduce your drying time without the need for rough towelling or heat damage from hair dryers and even the sun. It's a leave-in conditioner that strengthens dry and damaged hair over time to leave it healthy and shimmering.

Final thoughts

The best approach to treating split ends is prevention. If you are lucky enough to be blessed with resilient hair, you should still be taking steps to avoid split ends happening to you. Dryness is the biggest enemy, so your efforts should be focused on maintaining hydrating your locks at all times.  
Give your hair the best possible treatments so it can look its best, and shop haircare for dry, damaged hair at Oz Hair and Beauty!