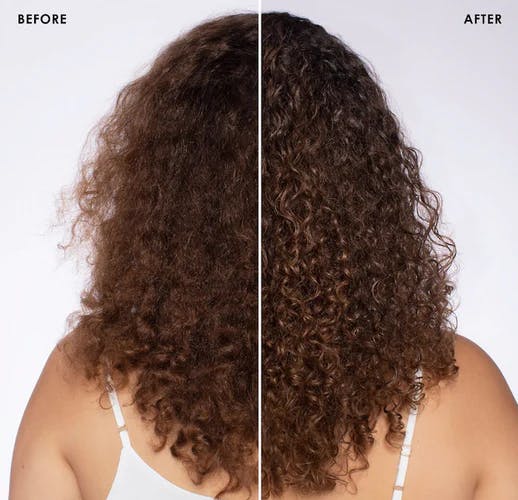 Say Hola To Olaplex, The Ultimate Hair Saviour
They say it's what's on the inside that counts. When it comes to the health of your hair, that's certainly true.
The battle to keep your hair healthy feels like it's never-ending. Even when you try to do the right thing by your mane, you can actually sometimes be causing more damage than you know. Brushing too vigorously, applying a bit too much heat with your hair appliances, and getting your colour done at the salon can all chip away at the bonds that keep your hair looking its best. And that's not to mention everyday environmental factors that can lead to damaged hair.
Well, there's a hair hero in town who can help you fix what's broken - the one and only Olaplex. This revolutionary California company has been helping women rebuild their hair (and their confidence) since 2014. According to thousands of glowing Olaplex reviews from hair professionals around the world, it's the real deal. Not only that, but Olaplex products are all vegan, cruelty-free, and sulphate free, so you aren't just being gentle to your hair, but kind to the environment. 
Whether you've been wondering what the deal is with Olaplex or you're just ready to do something about your damaged hair, this is the only guide you'll need to the haircare range that has taken the world by storm. Get the lowdown on how Olaplex treatments, shampoos and conditioners can change your hair game, and how to use the range to breathe new life into lifeless hair.
Meet Olaplex
So, just what does Olaplex do? Olaplex is a science-based treatment process that helps repair damaged hair from the inside out. While some other products might offer nourishing ingredients and sensational smells, Olaplex is backed by some real hardcore research and development. Without getting too deep into the lab coats and beakers, the Olaplex treatment process works to repair and realign the disulfide bonds that give our hair its structure, strength and stability.
When those bonds break, they can pair with too much oxygen and create an acid that eats away at your hair's protein. Hard pass, thanks. Olaplex helps save these broken bonds through its patented Bis-Aminopropyl Diglycol Dimaleate molecule, which swoops in for some potent pairing action before too much oxygen can. 
Before you start getting those cold sweats like you did in high school, don't worry – there's no quiz you have to pass before you start using Olaplex products. And, unlike those long, complicated recipes you see on foodie blogs, these steps are easy to follow.  
But you want to know one of the best things about Olaplex? You don't even have to follow each and every step in order if you don't want to – you can still get amazing results even with just one or two Olaplex products in your haircare lineup. 
Outstanding Olaplex options to try today
Olaplex plays nicely with all hair types, whether you're a curly-haired gal, walk the straight hair path or rock something else entirely. No matter your style, here are some Olaplex products in Australia you need to try.
The dynamic duo - Olaplex No. 0 and Olaplex No. 3
While you can make plenty of wicked combos with Olaplex products, perhaps the best place to start is by pairing Olaplex No. 0 Intensive Bond Building Hair Treatment with Olaplex No. 3 Hair Perfector. Olaplex's self-proclaimed "hero products", these two can combine for some serious strengthening. 
A major player in the protein treatment scene, Olaplex No. 0 prepares your hair for the bond-building journey, getting it ready to absorb all the goodness of Olaplex No. 3 treatment, the product that took the world by storm. Hit your clean, dry hair with No. 0, combing it through to make sure it all gets some Olaplex love. Let it do its thing for 10 minutes, then do the same with Olaplex No. 3 (apply, comb through, let sit for 10 minutes). After that, give it a good rinse, shampoo and condition (more than that in one sec). 
Ready to get to work? Grab an Olaplex Treatment Kit with No. 0 and No. 3 and you'll be on your way to luscious, healthy hair. Not sold on a two-step process? No. 3 can be used on its own, providing a reparative boost to damaged hair just 10 minutes. 
The essentials - Olaplex No. 4 and Olaplex No. 5
Every haircare routine needs a dependable shampoo and conditioner. As if you even had to ask, yes, Olaplex shampoo and conditioner definitely have you covered when it comes to cleaning, hydrating and helping fix your hair. 
Olaplex No. 4 Bond Maintenance Shampoo keeps the repair mission on track, targeting split ends and frizz. Despite its remarkable power, you can use it every time you wash, and it's safe to use on all types of hair. But what good's a shampoo without its partner in clean? Olaplex No. 5 Bond Maintenance Conditioner leaves your hair soft and shiny, making it even easier to manage.
Just as with the No. 0 and No. 3 combo, you can pick up Olaplex Bond Maintenance No. 4 Shampoo and No. 5 Conditioner Duo pack to get both these beauties in one fell swoop.
Complete your routine - Olaplex No. 6, Olaplex No.7 and Olaplex No. 8
Olaplex can help you take things to the next level, too. Dealing with unruly hair that can't be tamed? You can leave a bit of Olaplex No. 6 Bond Smoother in your hair after washing it for added moisture and continual control of frizz and flyaways. 
Olaplex No. 7 Bonding Oil is a pioneering styling oil that adds huge heat protection, saving you from the sun and your hairdryer, straightener or curling iron. Apply a few drops to the lengths of your hair after washing it and before styling to reap the benefits. It can be applied to both damp and dry hair, so we also recommend reaching for it on those between-wash days if your lengths are feeling a little dry. 
And last but not least, Olaplex No.8 Bond Intense Moisture Mask provides a highly concentrated dose of big bond-building action to your damaged hair for more shine, moisture and smoothness. This is the holy grail of hair masks that you want to be reaching for when you're having a pamper day. 
Your hair doesn't have to stay a damaged damsel in distress. Check out the great collection of Olaplex products on Oz Hair & Beauty today and start your journey to repair your hair.