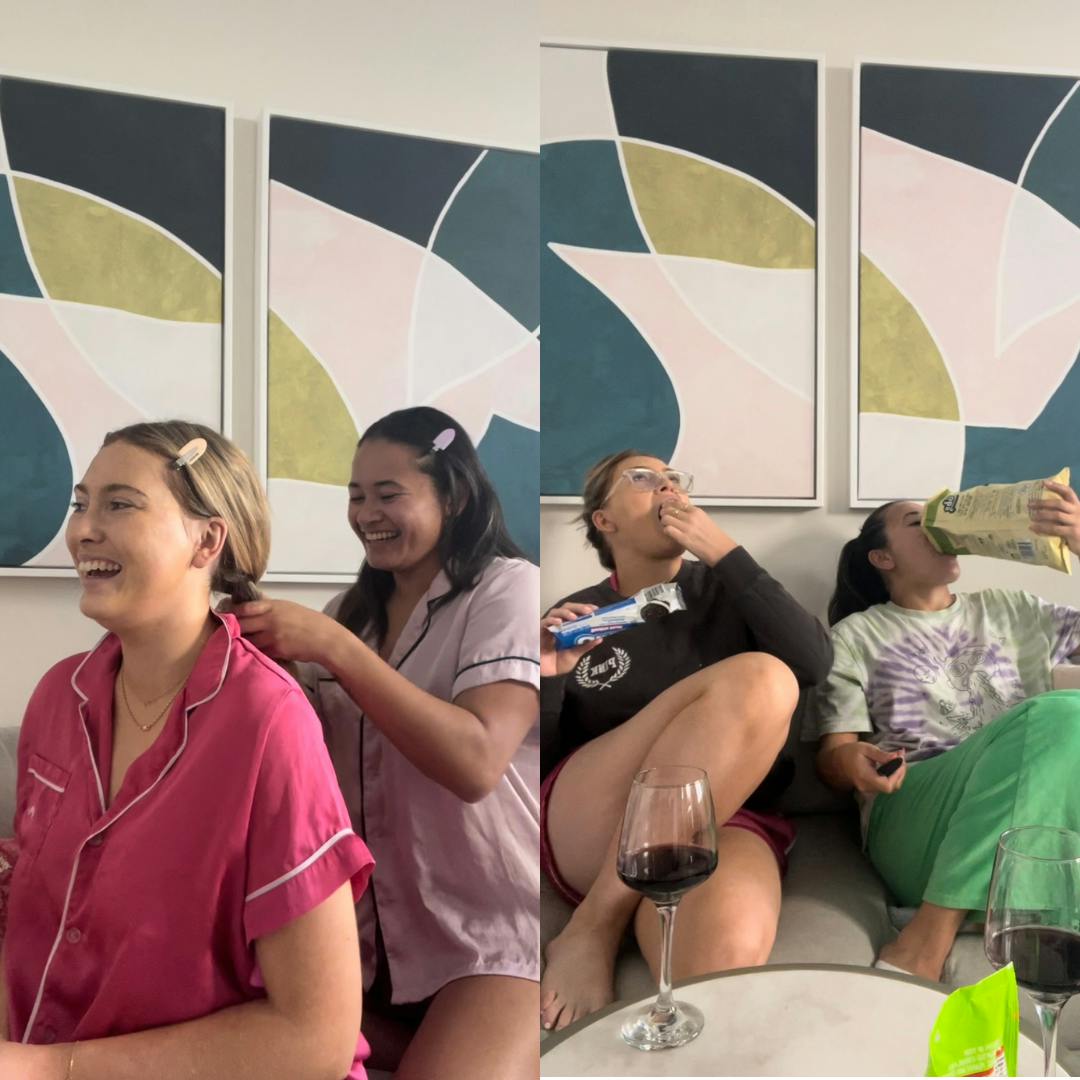 Our Essentials For Every Girls' Night In
One of the best parts about being a woman is the friendships you form with your girlfriends. There's nothing better than getting together and just enjoying yourselves, whether it's watching a movie, cooking dinner or enjoying a night of pampering. No matter what activities you do, our beauty essentials will make sure that your evening is the best it can be. 

Why is staying in better than going out?

There are many reasons why staying in is better than going out, from saving money to not having to worry about getting home (or the dreaded hangover). Plus, there's no rush to get ready or any pressure to get dolled up. Staying at home can also be much more relaxing and allows you to spend the night having a good catchup. 

Beauty essentials for your next night in

If you're organising a girls' night and are hoping to treat your friends to a bit of pampering, we recommend stocking up on these products: 
 
1. Avène Micellar Lotion  
 
This Avène Micellar Lotion is oil-free and non-drying, while also being non-irritating and non-comedogenic. It's suitable for sensitive, oily, combination and dry skin types, so it's perfect for a cleanse before prepping for your face masks for a girls night. 
 
The French brand, Avène is renowned for its gentle products. The formula contains no essential oils or fragrances, which means it won't irritate sensitive skin but still gives you the same benefits as other micellar waters, like removing makeup without stripping natural oils from your face. 

2. L'Oréal Paris Pure Retinol Night Serum

The L'Oréal Pure Retinol Night Serum is a vitamin A derivative that helps to smooth out fine lines and wrinkles, even skin tone, treat acne, and boost collagen production. Retinoids have been proven to be more effective than retinol at fighting signs of ageing. This serum will help to renew your skin overnight and can fight the most stubborn signs of ageing, including age spots and uneven skin texture. Pop this on before you sleep and you'll wake up with rejuvenated skin! 

3. Aspect Intense Hydrating Sheet Mask
 
Sheet masks are a staple of Korean beauty and are basically a cloth soaked in a serum that you put on your face. They're especially great if you have dry skin because they make your face feel immediately refreshed. The best time to use them is at the end of a long day when you want to relax and unwind before bedtime. 
 
The Aspect Intense Hydrating Sheet Mask is made from 100% cotton, which makes it extra soft and gentle on the skin. The mask comes with two pieces: one for the upper part of your face (forehead, nose, cheeks), as well as one section for around your mouth area (lips). When applying this mask to your face, gently press down until it has completely adhered itself onto every inch of skin, but not so hard that it cuts off circulation! 
 

4. Free asap Soothing Gel + Hydrating Night Repair
 
This 2-in-1 product is a lifesaver for those with sensitive skin. The asap Soothing Gel and Hydrating Night Repair has a unique combination of ingredients that help to soothe irritated areas, reduce redness, and give skin an overall healthy glow. It's also made from natural ingredients like aloe vera juice and green tea extract. To use it, apply the soothing gel on the affected areas (face or body) before bedtime, then follow up with the hydrating night repair cream the following morning to lock in moisture all day long. 
 

5. Dermalogica Multivitamin Power Recovery Masque
 
This Dermalogica Multivitamin Power Recovery Masque is a powerful anti-ageing treatment, which means it's not for the faint of heart. This product helps reduce fine lines and wrinkles while also helping to reduce redness, acne breakouts and dark spots (including hyperpigmentation). 
 
This mask is formulated with glycolic acid that exfoliates dead skin cells while retinol brightens dull complexions. It also includes antioxidants like vitamins C & E, which help fight free radicals that cause premature ageing by neutralising harmful chemicals in our environment that damage our skin over time. Hydration is key when trying out any new skincare, so make sure you moisturise after using this product - especially if your skin is on the sensitive side. 
 

6. Cloud ReVibe Beauty Tools
 
Your new pamper night bestie joining the crew is the The ReVibe Sculpting Device from CLOUD NINE.
Inspired by Gua Sha, a massage tool which has been used in Chinese medicine for thousands of years to lift, firm and improve the overall health and radiance of the skin. The ReVibe Face and Body Sculpting Device combines Heat Therapies and Ultrasonic Vibrations to increase the penetration and absorption of skincare, reduce fine lines and wrinkles, improve skin texture, collagen production and circulation. Bringing the salon experience to our sleepovers, what more can a girl want?
 

7. Kitsch Satin Heatless Curling Set
 
This Satin Heatless Curling Set is a great option if you're looking to add some volume and shape to your hair while adding shine as well. It's a great option for creating waves or curls without any heat damage. The set contains a foam curling rod and 2 scrunchies. By not using heat, you reduce the risk of breakage and keep your hair fizz-free. Plus, it's great for a girls' night in - why not try out some different styles on each other? 
 

8. Natalie Anne Charcoal Repair Mask
 
The Natalie Anne Charcoal Repair Mask is a deep cleansing and purifying mask that helps to reduce the appearance of pores and fine lines. It's made with charcoal, which helps to draw out impurities and toxins from the skin. The key ingredients in this mask include: 
 
• Bentonite Clay: This ingredient has been used for centuries because of its ability to remove toxins from the body by drawing them out through absorption. 

• Activated Charcoal: Activated charcoal is an excellent detoxifier that can help reduce signs of acne, acne scars, and blackheads.   
You couldn't feel more pampered if you tried! 
 
 
So, there you have it, our essentials for every girls' night. All products mentioned in this blog are available at Oz Hair and Beauty. We stock everything you need to create your perfect night in!