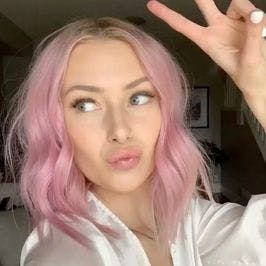 I Turned My Blonde Hair Pink
I think we can speak for most people when we say we've all at some point toyed with the idea of dyeing our hair a colour that is completely out of the ordinary. This year, Pink is in and if you've been wanting to take the pink plunge then this is your sign to do it.  
We spoke to our Purchasing Coordinator Damien, about temporarily dyeing their blonde hair pink & here's what they had to say! 
What made you want to dye your hair pink? 
Marcia from the Oz Hair and Beauty Salon loves to experiment on me, so every time I would see her, I'd say "let's try this, let's try that". I've done quite a few colours before like a lilac silver and blue so then I thought, you know what, I'll just do pink.  
We only did a semi-permanent colour so if I didn't like it, it would come out after 20 washes anyway & if I really wanted it out sooner, I just had to use my purple shampoo and it would've toned it and got rid of it.  
And what was the verdict once your hair was pink?  
I did it and I fell in love with it. I knew I wanted to keep it up, so I brought myself the MUVO Ultra Rose Shampoo & Conditioner so I could keep it for a while & I ended up keeping the pink hair for 6 months.  
What is the MUVO Ultra Rose Shampoo & Conditioner?  
The MUVO Shampoo and Conditioner is honestly the perfect duo for maintaining your pink hair or if you just want to experiment with the colour. I highly recommend using both products together to reap the full benefits of both moisturising and hydrating your hair and creating that nice dusty rose-pink tone.  
If you've been thinking about dying your hair pink but not sure if you fully want to commit to it long term, then this is probably the best product to experiment with. It's not permanent and it will come out after 1 – 2 washes if you end up hating it.  
A post shared by MUVO hair (@muvohair)
How often would you use the MUVO Ultra Rose Shampoo & Conditioner? 
I wash my hair every two days so every 4 days I was putting in the Pink Shampoo & Conditioner, but I think it's also dependent on how often people was their hair. I only did it this frequently because after about two days I would notice it start to fate, so I did this frequently to keep up the colour. A temporary colour lasts up to 20 washes but to be fair, it really depends how well your hair holds the colour that determines how often you would use the products. 
How long would you leave the shampoo & conditioner in? 
2 – 5 minutes maximum! I made the mistake the first time I used it and I put it in my dry hair and left it in for half an hour. I went to wash it out and it was pure hot pink ... I had to get out my purple shampoo to tone it down to the colour I wanted it to be. So, unless you want it to be a hot pink colour leave it in as long as you like but I would highly recommend 5 minutes max.  
What was your first impression?
Because I had bleached hair, my hair felt dehydrated after using the shampoo, but as soon as I put the conditioner through my hair felt much better. I would definitely recommend following the shampoo with the conditioner to lock in that moisture and hydration in your hair.  
Would you recommend for other blondes? 
100%. Dying my hair pink was one of my favourite hair colours I've ever done - I'm actually going pink again next week.  
If you've been pondering around the thought of going pink just do it! The great thing about the muvo shampoo and conditioner is that it's not a permanent colour. If you try it and don't like it then it will come out after a few days and if you really wanted to get it out sooner you just have to use your purple shampoo to tone & get rid of it.  
Shop all our fave pink products including the MUVO Ultra Rose Shampoo & Conditioner at ozhairandbeauty.com.