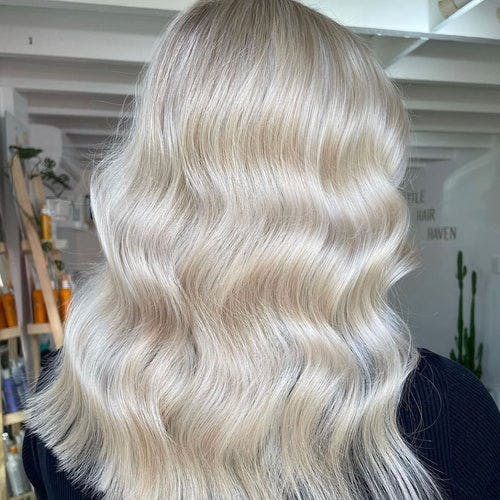 We Asked 5 Blondes What Their Favourite Hair Products Are
Whether you're a natural or bottle blonde, you know your day to day life can be tough on your hair. Sun, pollution and heat all take their toll and leave your hair looking less than its best. So how can you keep your blonde hair looking salon fresh? We asked 5 blondes to share their top tips.
Why blonde haircare is so important?
Let's face it, blonde hair can be high maintenance! If you're a natural blonde, you may have fine hair which is easily weighed down by the wrong products and damaged by heat styling. Meanwhile, those of us who need a little salon help to achieve the perfect blonde tone know all too well the pain of spending a long time trying to find the perfect colour only to have it fade or start to yellow - and don't even mention the breakage!


How you can manage your hair in between salon visits?


Hair breakage
A post shared by ELEVEN Australia 🇦🇺 (@elevenaustralia)

Lack of hydration

Toning upkeep
Want to keep your colour fresh between salon visits and eliminate brassy yellow tones? A toning treatment might be just what you need. Try some of our favourites:

• For a quick pick me up, choose the Vitafive CPR Serious Blonde Instant Toner 180ml
• If you're looking for a hard-working mask, opt for the Kérastase Blond Absolu Anti-Brass Purple Mask 200ml 


Schwarzkopf BlondMe Light Shampoo and Conditioner


Klorane Chamomile Shampoo
A post shared by Klorane USA (@kloraneusa)

Mr Smith Blonde Treatment

Biolage Colorlast Purple Shampoo

Matrix Color Obsessed So Silver Shampoo
Matrix Color Obsessed So Silver Shampoo. Obsessed is right, it really works to keep my hair looking incredible."
If you love the lighter side of the spectrum, Matrix Color Obsessed So Silver Shampoo is for you. Specially formulated for natural or colour treated grey to white hair, this hard-working shampoo contains vitamin E and sunflower oil to fight environmental damage and soften hair while working to cleanse and neutralise unwanted warm tones in your strands. It is available in a large-sized 1000ml bottle so it will always be on hand when your hair needs a boost.
A post shared by Matrix (@matrix)
Discover your blonde haircare routine at ozhairandbeauty.com today.